10

+

Million Tonnes CO2 Avoided (Effectively Carbon "Neutral Company" Since 2019)

40

Percent Water Saved Per Unit of Electricity Generated against 2017-18 Baseline

3000000

+

Beneficiaries of Social Investment

3000

+

Local Jobs Created

100

+

Structured Meetings With Community Annually
Sustainability At Azure
Sustainability at Azure means providing clean affordable solar energy while safeguarding the health and safety of our people and giving back to our environment and communities in a socially responsible way.
Our approach to sustainability is integrated across our core business activities. We are committed to maintaining the highest ecological standards and making a meaningful positive impact on the communities we operate in. We hire from local communities and generally lease land with few alternative uses, providing local communities with a stream of discretionary cash flow without displacing alternative businesses.
Our core values of honesty, excellence, entrepreneurship and social responsibility reinforce our approach to providing energy in a sustainable way.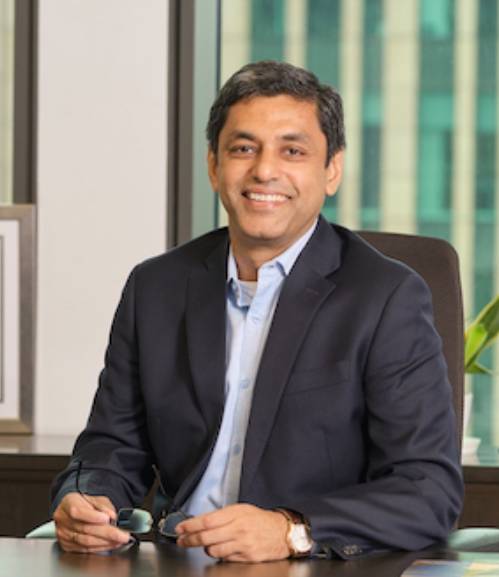 Ranjit Gupta
Managing Director and Chief Executive Officer
Sustainability is the core of our value proposition and the essence of our business. We are proud of our performance on key environmental, social and governance issues and are committed to delivering value to our stakeholders by providing reliable solar power to our customers, fulfilling careers to our employees, bettering the communities in which we operate, and providing strong returns to our shareholders.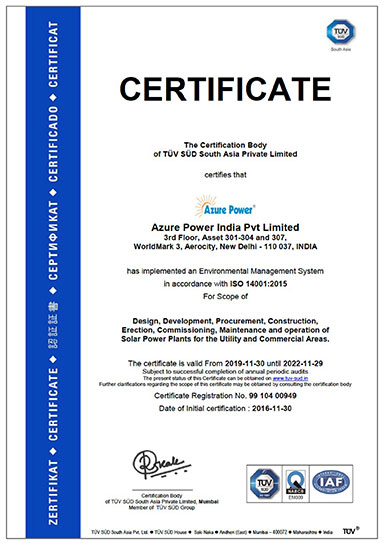 Certificate of
ISO 140001:2015
ISO 14001:2015 specifies the requirements for an environmental management system that an organization can use to enhance its environmental performance. ISO 14001:2015 is intended for use by an organization seeking to manage its environmental responsibilities in a systematic manner that contributes to the environmental pillar of sustainability.
Previous
Next
Our Sustainability Goals
We measure our success by how we positively impact people, society, and the planet. Our goal is to make Azure environmentally sustainable and help preserve the planet.